For die-hard fans of fall and Halloween, the 1993 Disney movie
Hocus Pocus
is a staple that we never get tired of watching again and again (and again). Luckily for us, it has had a bit of a resurgence these past few years, starting with the announcement of a sequel from Disney, and subsequently a book tie-in that came out in 2018. That same year, Disney hosted the 25th anniversary of
Hocus Pocus
during a TV special, and ever since then, rumors of new movies being in the works, as well as fun merchandise have been popping up at an increased speed.
Which makes my heart VERY happy.
So today, I wanted to show you some of the new Hocus Pocus merch available, but also talk more in depth about the rumored movies. Because yes, it's not just ONE, but TWO Hocus Pocus movies that may or may not be coming our way, and it's not always clear when reading the news about them. So let me attempt to untangle them, and hopefully get you excited about what's to come.
Hocus Pocus Remake
The first rumor of a new Hocus Pocus movie started swirling around in 2014, but it later became clear that the project was going to be a reboot, not a sequel, and would be made with a limited budget for the Disney Channel, which means no theatrical release. When fans around the world heard that the original cast was not going to be part of it (even though they'd expressed interest in participating), all hell broke loose. Understandably, fans had high expectations, and the movie wasn't shaping up to meet those expectations.
The reboot was announced and very much in development, with Scarlett Lacey from The Royals writing the script, and original producer David Kirschner signing on to the project. However, following a comment from Bette Midler about the movie being "cheap," news about the reboot stopped coming.
PHOTO: BUENA VISTA/COURTESY EVERETT COLLECTION
So far, it's not clear if Disney is still considering making a low-budget reboot of Hocus Pocus. It might be that they listened to the fans and decided to give the project the budget and the effort it deserved, or it could be that both will be coming our way. If you ask me, I wouldn't mind a cheap reboot. I'm starving for more family-friendly, fun Halloween movies, so anything would make me happy.
Hocus Pocus 2
Now this is where things get interesting. Rumors about a new project, a sequel rather than a remake, started making their way through the film industry last year. And this time, it looked like the project was going full speed ahead.
As of March 2020, the movie is in pre-production, Jen D'angelo from Workaholics has been signed on to write the script, Adam Shankman from Enchanted is attached to the project as a director, and it looks like the original cast will be part of it, although it's not clear yet if they will be the stars of the sequel, or simply shoot a few scenes as a cameo.
It's expected to come out on Disney+, Disney's new streaming platform, but it sounds like this time around, it won't be "cheap," much to Bette Midler's and the fans' relief.
So now the question remains: will we get TWO Hocus Pocus movies, one remake and one sequel, or only a sequel? Only time will tell.
New Official Hocus Pocus Merch
With all this movie talk and the fans' excitement at its peak, it's no surprise that new merchandise is coming out in an effort to keep the momentum going. Here are a few that caught my interest:
1. Hocus Pocus Book
This book
contains both the original story as well as an "all-new sequel" that helped sustain the craze following the news of a Disney Channel movie. I have yet to pick it up myself because I've heard mixed reviews about it, but also because I initially thought that the "all-new sequel" in the book was going to be the story of the Disney Channel movie that would eventually come out, so I didn't want to spoil the movie. As we later learned, the Disney Channel movie was going to be a reboot, I'm confused as to what this sequel is supposed to be. I guess it's just a brand new story, sort of a licensed fan fiction at this point? I might give it a shot now that I know it won't be spoiled.
2. Hocus Pocus Nestlé Cookie Dough
Now THIS, I'm very interested in getting my hands on. Oatmeal peanut butter cookies sound amazing, and the packaging is beautiful. Sadly I haven't seen it yet in my local grocery stores, but I might have to go hunting for it at Walmart and Target to see if I can find it.
3. Hocus Pocus Board Game
You may not know this about me, but I LOVE playing board games, so this is right up my alley! The artwork is adorable and fun, and it looks simple enough to play with kids. It's a cooperative card game in which you work together to ruin the Sanderson witches' potion three times before the sun rises. I can totally see myself playing this with friends while Hocus Pocus is on the TV in the background, and it'll be a great addition to my Halloween board game nights. Check it out on Amazon for more info.
4. Hot Topic Hocus Pocus Clothing & Accessories
Hot Topic managed to land an awesome license deal and made quite a large selection of amazing t-shirts, sweatshirts, hoodies and mugs with your favorite black cat and witches on them. I'm very impressed with the designs, and might have to pick something up for myself!
5. Sanderson Sisters Funko POP! Movie Moment
6. Hocus Pocus Mystery Pin Collection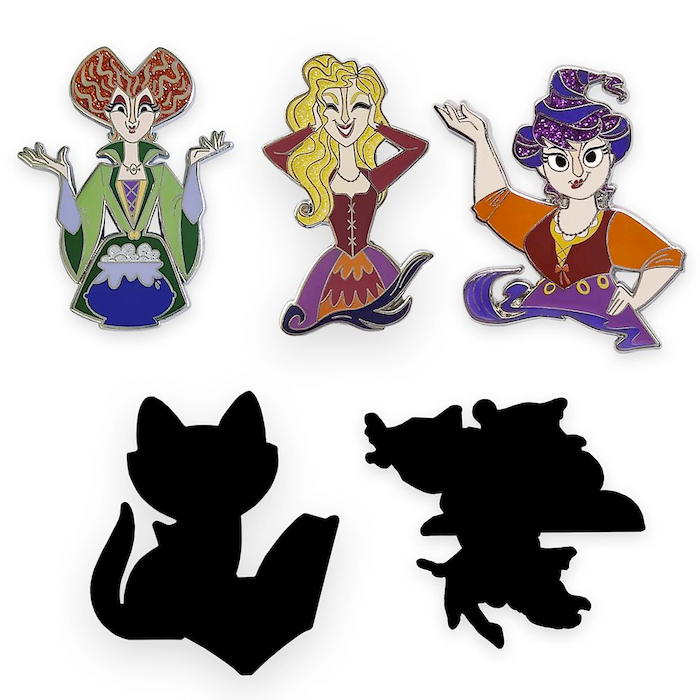 Another one for the collectors! This is one of those "mystery pins" where you buy a little bag and you don't know which pin you're going to get, so there's an added excitement and luck to the experience. Sadly, they are sold out on Disney's website, but you can still find some on eBay and Mercari, although they might be a bit pricey.